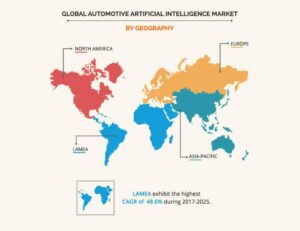 AI is making its way into the automotive industry. Whether it is in the form of computer vision features, sensors, or data analytics, automakers must understand how to leverage this technology to improve their vehicles. For this reason, it is imperative that engineers understand how to use big data and AI in their work. Emeritus offers flexible online courses in data science, analytics, and AI to help automotive engineers upskill. The company is a partner of leading universities and is ready to support its members' needs by offering AI and data analytics programs.
Driver assistance technology has also benefited from the advancement of AI. It is now possible for cars to monitor the eye of the driver to detect problems before they happen and even suggest ways to improve the driving experience. By monitoring various sensors and detecting upcoming issues, AI in cars can make the travel experience less taxing and more enjoyable. In addition to driver assistance software, automotive companies have partnered with software companies to ensure the best driving environment possible.
Supply chain optimization is a challenge for any business, but the auto industry is particularly complex and has an enormous supply chain. Many variables influence the supply chain, including political factors. Managing inventory and raw materials can be difficult, and poor quality production increases the number of vehicle recalls. Fortunately, AI solutions in the automotive industry are already solving these problems. If you want to learn more about AI's applications and how it can improve your business, read on!
Waymo is one of the leading companies in AI in automotive, and it's a subsidiary of Alphabet Inc., Google's parent company. Waymo AI software uses data from Lidar and high-resolution cameras to produce control signals. Then it can predict the objects in the way the vehicle travels. This means autonomous cars can make your journey safer. These vehicles are becoming more accessible than ever, and reducing long-distance truck and bus driver fatigue are just two of the benefits.
The insurance industry already uses AI to predict the future, and AI can do the same. Instead of focusing on the past, AI is now analyzing recent events and actions. It can also identify the risk of future crashes. And since AI uses recent data, risk profiles are more accurate because AI uses other factors that might not be as obvious. The future is bright for AI in automotive, and people will benefit from the technology. It's time to harness the power of artificial intelligence to improve our lives.
AI has already transformed the car-buying process. With the advent of autonomous vehicles, many brands are handing over decision-making to machines. This will decrease the number of accidents and save lives. However, this will require continued development. In the meantime, the automotive industry is facing a technological revolution. As the field continues to develop, many companies are collaborating with tech companies to introduce cool new features. Some of these innovations are listed below.
Humans write the algorithms for ML decision-making, while clever chips help make the decisions based on this data. In addition to human decision-making, ML relies on big data sets generated by connected cars. These data sets can be processed quickly using clever chips. Ultimately, this technology will allow cars to make better decisions. However, there are many challenges to overcome before the technology is widely adopted. So, the first step is to determine how humans can best utilize ML in the automotive industry.
AI has a great deal of potential. Several studies show that AI could add value to vehicles, improve manufacturing processes, and decrease the cost of production. The automotive industry is no exception. If it adopts this technology, the market for automotive AI will reach $27 billion by 2025, according to Deloitte. In the meantime, the automotive industry should focus on using machine learning algorithms to develop autonomous features. AI can also improve a vehicle's efficiency and safety.